Entrance Guide
Open throughout the year (including holidays)
Entrance Hours
Byodoin Garden
Gates open at 8:30 am and close at 5:30 pm (last admission at 5:15 pm)
Byodoin Museum Hoshokan
Doors open at 9:00 am and close at 5:00 pm (last admission at 4:45 pm)
Interior of Phoenix Hall
Opens at 9:10 am and closes at 4:10 pm (year round)
(Viewing time begins at 9:30 am; 50 people at a time are admitted every 20 minutes thereafter)
Admission Fees
Entrance to Garden and Hoshokan (Byodoin museum)
| | | |
| --- | --- | --- |
| | Individuals | Groups (25 or more) |
| Adults | 600yen | 500yen |
| Junior High/High School Students | 400yen | 300yen |
| Grade School Students | 300yen | 200yen |
Notes:
Admission fees for persons with Physically Handicapped Certificates are half-price for the person in question and for one care provider.
There is no Garden-only admission option.

Viewing the Interior of the Phoenix Hall
A separate admission fee of 300 yen is required.
Address
Byodoin Temple
116 Ujirenge Uji-shi, Kyoto Prefecture 611-0021 Japan
Telephone: +81 (0) 774 212861
Fax: +81 (0) 774 206607
Uji is located between Kyoto and Nara, 16 minutes from JR Kyoto Station and 32 minutes from JR Nara Station via express train.
Transportation
Via TRAIN
Using the JR Nara Line, get off at Uji Station and walk 10 minutes east.
Using the Keihan Uji Line, get off at Keihan Uji Station and walk 10 minutes.
Via CAR

Coming from Osaka: Take the Meishin Expressway, and at the Oyamazaki junction, transfer onto the Keiji Bypass.
At the West Uji interchange, exit the Keiji Bypass and proceed straight ahead on the lateral service road.

Coming from Nagoya: Take the Meishin and Shin-Meishin Expressways, and at the Seta-higashi Junction, transfer onto the Keiji Bypass.
Exit at the East Uji interchange and turn left.

Coming from Nara: Take the Keinawa Expressway, and at the Joyo interchange,
turn right onto the Keiji Bypass lateral service road via National Highway No.24.
HISTORY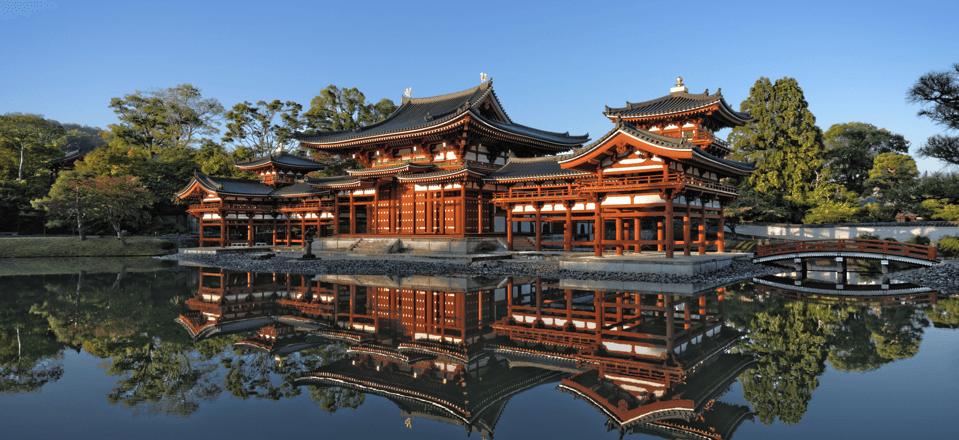 A Thousand Years of History
In 1052, Fujiwara no Yorimichi, eldest son of Fujiwara no Michinaga, who was Kanpaku (the Chief Advisor to the Emperor), the most powerful aristocrat at the time, transformed a villa that Minamoto no Shigenobu, Minister of the Left, had inherited from his wife into a Buddhist temple called Byodoin. The year 1052 was regarded as the first year of the Decadent Age of the Dharma, a dark period of moral decline before the arrival of the future Buddha. Both noblemen and priests were caught up in the pessimism associated with this doctrine, and the beliefs of Pure Land Buddhism that hoped for a peaceful death and rebirth in Paradise became widely popular at all levels of society. The completion of the Amida Hall or the Phoenix Hall was celebrated in the following year, 1053, and an especially opulent Seated Statue of Amitabha Tathagata sculpted by Jocho, the most highly regarded master sculptor of Buddhist images of the Heian Period, was enshrined inside the hall. The building, with its Buddhist images constructed nearly 1,000 years ago, is presented here today and is listed as a World Heritage Site.
National Treasures of Byodoin
Phoenix Hall (central building, two wing corridors, and tail corridor): four structures
Seated Statue of Amitabha Tathagata
52 wooden Worshiping Bodhisattvas on Clouds
Wooden canopy
Duo of Phoenixes
Temple bell
14 paintings on wooden doors