About Visiting the Interior of Phoenix Hall (Hou-ou-do)
Having experienced a number of renovations since its foundation in the Heian period (8-12th century), the Phoenix Hall displays its dignified beauty covering 1,000 years.
Visiting the interior of Phoenix Hall provides the unforgettable experience of seeing the Amida Buddha (Amida Nyorai; National Treasure) created by Jocho, who is claimed to have been the very best Buddhist sculptor in the Heian period. A detailed explanation about the temple's history and cultural properties will be provided by the our staff.
Reception for visiting the interior of Phoenix Hall
The reception for visiting the interior of Phoenix Hall is located in the garden (open from 9:00).
Purchase the set-time ticket at the reception for visiting the interior of Phoenix Hall in the garden.
Admission to the interior is 300 yen per person.


The explanation provided in the hall is in Japanese only. For those who have hearing difficulties or do not speak Japanese, we provide brochures (Japanese, English, Chinese (traditional and simplified), Korean). Please notify the staff at the reception.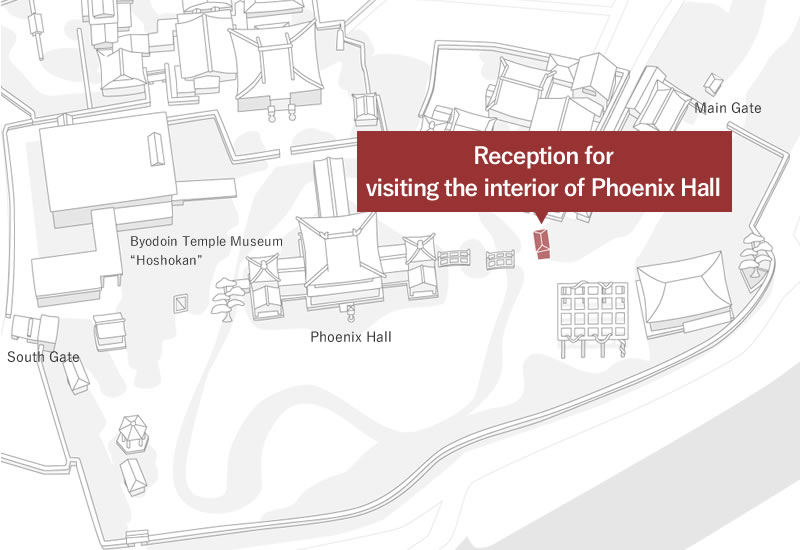 Opening hours of the reception
Please purchase your set-time ticket in advance and come to the hall at least five minutes before your designated visiting time starts.
(max. 50 people per visit; Ticket is valid for one set-time visit only)

| | | |
| --- | --- | --- |
| | 9:30 | 9:50 |
| 10:10 | 10:30 | 10:50 |
| 11:10 | 11:30 | 11:50 |
| 12:10 | 12:30 | 12:50 |
| 13:10 | 13:30 | 13:50 |
| 14:10 | 14:30 | 14:50 |
| 15:10 | 15:30 | 15:50 |
| 16:10 | | |
About Waiting Time
So as to protect this valuable cultural property, the number of visitors and maximum visiting time for entering the interior of Phoenix Hall at one time is limited.
Waiting times below are provided as rough indications. It is possible that waiting hours will be longer than usual depending on the time of year and the number of group visits on that day.
…Almost no waiting time
…Possible need to wait for around one hour
…Possible need to wait for around 1.5 hours
| | Jan. | Feb. | Mar. | Apr. | May | Jun. | Jul. | Aug. | Sep. | Oct. | Nov. | Dec. |
| --- | --- | --- | --- | --- | --- | --- | --- | --- | --- | --- | --- | --- |
| Weekdays | | | | | | | | | | | | |
| Sat., Sun., national holidays | | | | | | | | | | | | |
| | Weekdays | Sat., Sun., national holidays |
| --- | --- | --- |
| Jan. | | |
| Feb. | | |
| Mar. | | |
| Apr. | | |
| May | | |
| Jun. | | |
| Jul. | | |
| Aug. | | |
| Sep. | | |
| Oct. | | |
| Nov. | | |
| Dec. | | |
[Time estimates based on 2017 data]
Read here for frequently asked questions
about visiting the Interior of Phoenix Hall